Introduction
Eric Rajapakse Opticians is one of Sri Lanka's oldest eyecare organizations with a rich history of over 100 years. During the course of our long journey we have proudly served the people of Sri Lanka in many ways and helped introduce world-class products, services and quality standards to the local market. We are proud to state that we have successfully changed the landscape of eyecare in Sri Lanka by contributing in numerous ways to uplift the field.
We have always believed in offering the best international brands at various price points so that our customers have a greater choice based on their requirements and budgets. Today, our customers have the luxury of picking from a wide range of world-famous spectacles and sunglasses brands including Michael Kors, Prada, Gucci, Vogue, Ray Ban, Polo Ralph Lauren, Polar Sun, Carrera, Boss, Oakley and many others. We also offer a comprehensive range of international brands of lenses, including the world-renowned Essilor lenses from France, all of which possess innovative features, such as scratch proof, water proof, colour changeable, anti-reflective or anti fatigue.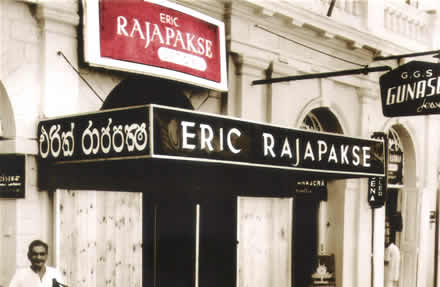 History
The early beginnings of Eric Rajapakse Opticians takes us back to the year 1917 when our Founder Alfred Rajapakse had a vision to form Sri Lanka's best eyecare company and serve his fellow citizens. Building on the foundation laid by him, Alfred Rajapakse's son Eric Rajapakse, established himself as a leading figure in Sri Lanka's eye care field and moved the office premises to Upper Chatham Street in the heart of Colombo. The 3rd generation of the family, led by Eric's son Rohan Rajapakse took the company to the next level and opened several branches in some of the bigger cities across the island, thereby paving the way for a large population of people living in and around those locations to gain access to world-class eyecare products and services.
Why are we special?
As one of the very first eyecare companies in Sri Lanka with a proud history of over 100 years, we have made significant contributions to the field in Sri Lanka.
When we set up our very own lens manufacturing plant in Ratmalana together with a factory that produced spectacle frames we provided employment to hundreds of individuals.
We were one of the first eyecare companies to become agents for several prestigious international retail brands such as Christian Dior, Dunhill, Pentax and Rodenstock.
With the aim of boosting the knowledge levels in the country in the field of Optometry, we created the Eric Rajapakse School of Optometry. This institute played a vital role in training many of the country's practising opticians at the time and has influenced those operating in the field even today.
We have been instrumental in training, moulding and inspiring a great number of opticians in Sri Lanka. We are proud to state that many of today's opticians, senior practitioners as well as new individuals to the field, have worked at Eric Rajapakse at some point in their careers.
We have been actively involved in the activities of the Sri Lanka Optometric Association, an organisation which was set up in 1961 to regulate, standardise, supervise and train its members for the continuous improvement of primary eye care of the Sri Lankan general public. Our Founder was one of its earliest Presidents (1962 to 1969) while Rohan Rajapakse was President during the mid-1990s.
We embraced modern technology by introducing the latest electronic equipment and computerised processes, changing the way optical companies functioned and raising the bar for the whole industry.
Our Approach
We provide high-quality, world-class products and services
Our products come at various price points to suit all budgets
Our team is professionally-qualified with years of experience in providing eyecare solutions
All our showrooms are modern and equipped with state-of-the-art technology
We give prominence to female customers with a majority of our products catered to meet their requirements
All our showrooms specially designed to be female-friendly while most of our staff members are also female
Rajeev Rajapakse – The 4th generation Rajapakse driving the eye care industry forward
Rajeev Rajapakse is the grandson of Eric Rajapakse and the great grandson of the Founder Alfred Rajapakse. After completing his studies in Sri Lanka, Rajeev pursued his higher studies in the USA where he obtained a Business and Management at Abraham Baldwin College. Having completed his degree, he returned to Sri Lanka where he was initially employed at a top international advertising agency. Here, he gained invaluable insights into the business world, especially about corporate public relations and marketing. Following the 2-year stint, he joined Eric Rajapakse Optician where he was trained by his father Rohan Rajapakse as well as the Head Optometrist at the time. He soon learnt about the expanding product range of the company and the need for new products to keep pace with changing customer needs and lifestyles.
Eric Rajapakse Opticians had always offered top global brands such as Christian Dior, Dunhill, Carrera, Paloma Picasso, Pentax, and Rodenstock. Rajeev played a key role in widening our range of designer spectacle frames and introduced the Gem, Carven, and Lollipops frames from France to the local market. More recently, with fashion houses producing eyewear and changes in international distribution and retail channels, he helped to expand our range to include brands such as Michael Kors, Prada, Gucci, Vogue, Ray Ban, Polo Ralph Lauren, Polar Sun, Carrera, Boss, and Oakley.
 Ever since he got involved in the business in 1998, Rajeev has continued to bring a fresh, vibrant look to Eric Rajapakse Opticians. His experience on the international stage thanks to his tennis and travelling has helped him to see things from a different perspective. His objective is to constantly improve and customise the eye care service provided by Eric Rajapakse Opticians, with the idea that eye care is an essential component of the quality of life and that the company has a significant role to play in taking the industry forward in Sri Lanka.