Style of hearing aids based on degree of hearing loss
There are many styles and hearing aids vary in size, colors, special features and the way they fit in your ears. Hearing aids can either be worn outside the ear or inside the ear. Your hearing care professional can help you choose the hearing aid style that fits your lifestyle and needs. For mild to severe hearing loss, you can choose any style of hearing aids. For severe to profound hearing loss, it is generally recommended to wear outside the hearing aid.
Listening and lifestyle needs
Your lifestyle and the listening environments will determine what hearing aid will be ideal for you. See below chart to see which hearing aid fits your lifestyle best.
Budget
Basic
Advanced
Premium
Hearing Aids Model
Beltone Rely
Beltone Amaze
Beltone Boost Ultra
Beltone Imagine
★★★
★★★★
★★★★
★★★★★
A complete collection

of modern hearing essentials with great
sound for everyday life.

High-performance hearing
aids offering a brilliant sound experience
with fuller and richer sounds.
A complete solution
for severe-to-profound
hearing loss with clear,comfortable, high-quality sound.
The pinnacle of truly individualised
hearing experiences, using each client's unique
ear anatomy to hear as
nature intended.
Hearing loss level
Mild to profound
Mild to severe
Severe to profound
Mild to severe
Level of individualisation

★★★

★★★★

★★★★

★★★★★

Sound clarity

★★★

★★★★

★★★★

★★★★★

Speech understanding in noise

★★★

★★★★★

★★★★★

★★★★★

Spatial awareness

★★★

★★★★★

★★★★

★★★★★

Access to high-frequency sounds

★★★

★★★★

★★★★

★★★★★

Cost of Hearing Aids

$

$$$

$$$

$$$$
Ready to upgrade your hearing aids?
Visit your local Beltone Center to try our latest technology and hear what everyone is talking about.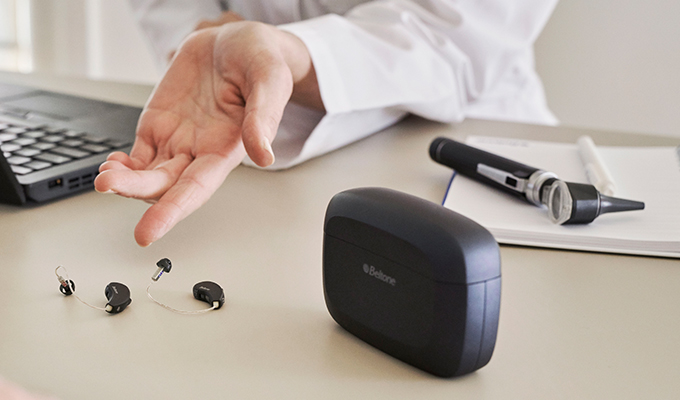 Ready to upgrade your hearing aids?
Find a local hearing care professional you trust.
This person will guide the process and help you make the best decision based on your level of hearing loss and specific preferences. Make sure the location is near your home and also accessible, if you travel.
Complete a lifestyle assessment.
Your daily routine is the most important determining factor when selecting the right hearing aids for you. Are you an outdoor enthusiast? Are you retired or still work? Are you often in noisy environments? Bring your responses to your free hearing evaluation.
Review your health history.
Your general health, medications you take or have taken, childhood illnesses, and your current hearing loss symptoms all influence the choice of hearing aid model appropriate for you. Make some notes that you can share with your hearing care professional when you come in for an office visit.
Have a comprehensive hearing exam.
At Beltone, we always start with a free comprehensive hearing evaluation. This is the best way to determine your type and level of hearing loss. First, we use an otoscope to visually inspect your ear canal and eardrum. Some cases of hearing loss are actually caused by earwax, eardrum perforation or an abnormality of the outer ear. Next, hearing ability is measured in each ear using tones of different frequencies, and speech sounds played through earphones. The results of these tests are plotted on a graph called an audiogram.
Review your audiogram results with a professional.
If a hearing loss is detected, your audiogram will show what kind of hearing loss you have (conductive, sensori-neural or mixed) and if your hearing loss is mild, moderate, severe, or profound. These factors are essential to know when you choosing the style, shape, size, and circuitry of the hearing aids that are right for you.
Try before you buy.
Today's hearing aids are easy to wear. They can automatically adjust sound according to changing environments, remember your listening preferences, recognize the difference between speech and other sounds, and so much more. Best of all, they're tiny and light, so they're practically undetectable. Demonstration models let you experience the look and feel of those hearing aids best suited to your hearing loss, lifestyle, and expectations. Take a "test drive" before you buy to achieve a positive outcome.
> Learn about the different styles of hearing aids available
Ask about follow-up care.
Once your hearing care professional fits you with new hearing aids, aftercare is recommended. Your hearing can change over time, requiring subtle adjustments to your hearing aids. Plus, hearing aids are highly sophisticated digital devices that perform best when regularly maintained.
Begin your journey to better hearing
Come in to your local Beltone Center and get a hearing screening and consultation with a hearing care professional. Learn about your type and level of hearing loss with no obligation to make a purchase.